SPIRITUAL DEVELOPMENT
GAYLE KIRK

THE REAL DEAL.

TESTED. GIFTED. COMPASSIONATE. EMPOWERING. TRUSTWORTHY.
"A BLESSING OF SOLITUDE"




The shape of each soul is different.
There is a secret destiny for each person.

When you endeavor to repeat what others have done or force yourself into a preset mold,
you betray your individuality.

We need to return to the solitude within,
to find again the dream that lies at the hearth of the soul.

We need to feel the dream with the wonder of a child approaching a threshold of discovery.
When we rediscover our childlike nature, we enter into a world of gentle possibility.

Consequently, we will find ourselves more frequently at that place,
at the place of ease, delight, and celebration.

The false burdens fall away.
We come into rhythm with ourselves.
Our clay shape gradually learns to walk beautifully on this magnificent earth.

John O'Donohue
Many people often ask me,



"How can I connect with the Divine so I can recognize and receive spiritual guidance for myself and others?"

"How can I develop and strengthen my own psychic and mediumship abilities?"

"How can I create happiness, inner peace, and a sense of fulfillment in my life?"
Here is my answer as best I can give it based on what I've learned and experienced so far.

If you want to feel guided and supported in life, it's important that you set aside time each day to be still and to connect with Divine Spirit, God/Source, the All That Is, a Higher Power, the Universe, Spirit Guides, Angels, and your Higher Self or Soul - however you want to describe it.

You are never alone. Your Soul and Higher Intelligence wants to guide and support you through life in the decisions you are making and the challenges you are facing. Divine Spirit loves you and has your highest and best interests in mind - always.

You and Divine Spirit are the creators of your life. Know that your future is not completely predetermined or a series of random, chaotic events. Your life is largely determined by the beliefs, thoughts, feelings, words, and actions you choose and by Divine Will.

Make time to be still and know the love, peace, power, and wisdom of your Soul and Spirit.



Learn to enjoy the present moment more fully and to co-create your life with the loving support, guidance, and wisdom of Divine Spirit, God/Source, Spirit Guides, Angels, and your Higher Self/Soul.

Allow Divine Spirit to help you by making time to connect and listen. Most people say they don't have time to connect with Spirit, but it's necessary and important. How can you expect to hear from Spirit if you don't take the time to listen?

The still, small voice of Spirit is often subtle. You must get very calm, quiet, and make time in order to hear, see, and feel the guidance, love, and support of Divine Spirit.

All you need is 10 seconds to 30 minutes each day. Most of us watch TV more than that. You're worth it. Make time for yourself. You can't give to others when your own cup isn't full.

To start, since you have free will, remember to sincerely ask for help from Spirit. It's important to ask in order to receive.

Make time to listen and to receive guidance and inspiration from Spirit daily by relaxing and sitting or walking by yourself in silence. As you spend time alone in prayer, meditation, contemplation, and in nature, you will be comforted, guided, healed, fulfilled, and inspired on your journey.

There are many loving, wise, and compassionate heavenly beings waiting to support and uplift you. Just ask and allow them to help you. In quiet time, unburden yourself by speaking directly to Spirit from your heart about any concerns, frustrations, hurt, anger, guilt, shame or inadequacy you may feel, no matter how great or how small.
Let go of any anxieties you may have and open you heart and mind. Let go of any limiting beliefs and fears. Talk with Spirit about your concerns and challenges. Share your hopes, dreams, and aspirations.

You will find the faith, courage, love, understanding, and strength to meet every situation and to handle any difficulty that may arise by actively seeking a connection with Divine Spirit and by making time for that relationship. You will often be helped to have the hope, upliftment, healing, peace, joy, and comfort you are seeking in times of sickness, poverty, loneliness, sadness, fear, despair, frustration, and pain.

Let go of any expectations, shoulds or agendas that you may have on how you believe Divine Spirit is supposed to help you. Learn to trust, have faith, and let go and let Divine Spirit or God/Source inspire you and work through you and around you.

You can create a life of love, happiness, health, prosperity, fulfillment, and inner peace by actively seeking guidance from your Higher Power, which includes Spirit Guides and Angels, and by learning to carefully choose your beliefs, thoughts, feelings, words, and actions.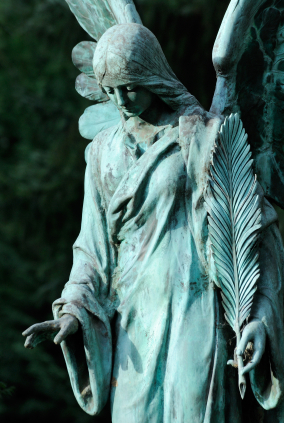 Remember to meditate, spend time in nature, read inspirational books, listen to inspirational music, think/say positive affirmations about yourself and others, and pray for guidance and strength.

Learn about the different ways Divine Spirit, God/Source, Spirit Guides, the Angels, and your Higher Self/Soul can assist you and communicate with you so you'll recognize the guidance and support when it comes.

Learn to develop your ability to perceive help from Spirit by spending quiet time with Spirit and by learning to still your mind, to concentrate, and to focus through meditation. This will help you to recognize and receive spiritual guidance and to feel the presence, love, and support of Divine Spirit around you.

Increase your overall sensitivity by learning about your psychic, mediumship, and channeling gifts and by developing them so you will be able to receive and recognize help from Spirit.

We all have these gifts to varying degrees.

If you can, attend a lecture or take a meditation class or a psychic and mediumship development class from a respected, experienced teacher who is compassionate and who walks their talk. I give classes at different times and in various locations. I would be happy to help you.

Take a webinar or in-person class with me. Learn how to receive wise, empowering psychic guidance and loving, healing messages from Heaven for yourself and for others.

There are also many good books and websites on meditation, psychism, mediumship, life after death, healing, and many other subjects on the RESOURCES page of my website.
Learn to trust and have faith in spiritual guidance when it comes to you. Continue to develop the courage and confidence to follow through on the inspiration you are given.

You are learning to discover your own relationship with a Higher Power, to tune into Divine Spirit, and to see that love or spiritual essence within yourself and within others.

Ultimately, the journey you are taking is one of greater love for yourself and greater love for others. It is a process of self-discovery and it is available to all of us at any time.

Be gentle and patient with yourself in the development process. Remember, it doesn't happen over night. It is a life-long process.



Keep a journal and record your progress so you can see that indeed you are moving ahead with your development even when it seems slow. Find people to support your growth and healing. Connect with like-minded folks who enjoy some of the same things you do in classes, online, through support groups, churches, workshops, and in other ways. Have fun, help others, and love yourself along the way.

Develop an attitude of gratitude. So much of the way we experience life is determined by our perception of it. Be sure to also give thanks to Divine Spirit for the things you are grateful for. Thank God/Source, your Spirit Guides, and Angels for their love, guidance, comfort, and support. Trust, have faith, and learn to know that Divine Spirit is really helping you.

Think, say, and do the things that are positive and that bring you and others peace and joy. Look for and begin to see the presence of God/Source in yourself and in every person. We are all one with more similarities than differences.

The information above not only helps you to receive guidance for yourself, it also helps you to learn how to receive guidance for others. In addition, the same principles apply when learning how to receive messages from loved ones in Heaven for yourself and others.

More importantly, what I have outlined is a way of life for finding happiness, inner peace, direction, strength, healing, meaning, purpose, and spiritual fulfillment in your own life.

Spirit will always love, guide, and support you, but for it to be a strong partnership, it requires your intention, asking, and being open to receiving Spirit's guidance.

In all things, do what is right for you. Spirit and I look forward to helping you be your most and create your best life!

Enjoy watching the beautiful starry night video below. I love watching the stars at night!

Love, peace, and blessings,

Gayle




NOTE: Enjoy a PRIVATE READING. Learn what to expect and how to prepare.


NOTE: Join my NEWSLETTER below to be notified of Teleseminars, Webinars, Workshops, Classes, Events, Books, Talks, and for special discounts!